Joachim Sartorius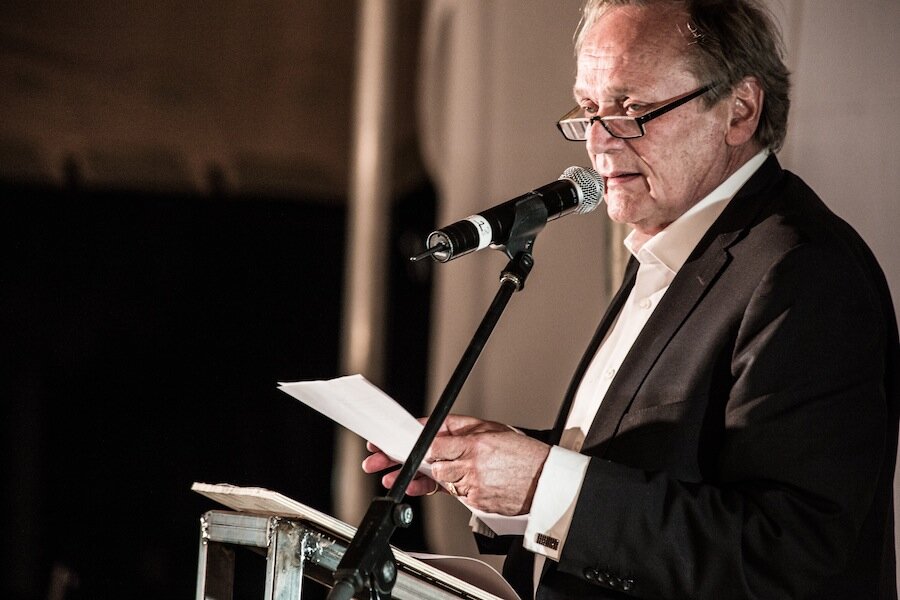 Joachim Sartorius was born in Fürth/Bavaria and grew up in Tunis. He studied law and political science in Munich, London and Paris and served as a diplomat in New York, Istanbul and Nicosia until 1986. After holding various positions in the field of international cultural policy, he acted as head of the Goethe Institute worldwide. From 2001 to 2011 he has been Director General of the Berlin Festivals. He has received fellowships from the Rockefeller Foundation and Collegium Budapest and was elected a member of the German Academy for Language and Literature in 2002. He was named Chevalier des Arts et des Lettres in 2011. Joachim Sartorius holds a professorship at the University of Arts in Berlin, where he lives.
His wide-ranging publishing projects include translations of the Collected Works of Malcolm Lowry and William Carlos Williams, as well as works by Wallace Stevens, John Ashbery and Allen Curnow, among many other books; book collaborations with the artists James Lee Byars, Emilio Vedova, Nan Goldin and Max Neumann; and the higly regarded international poetry anthologies 'Atlas of new Poetry' (1995) and 'Minima Poetica' (1999).
His own poetry has been collected in seven volumes, and is now also available in Arabic, Dutch, French, Greek Hungarian, Romanian and Spanisch editions. He also published a book of essays and two travelogues 'The Princes Islands' (2008) and 'The Geccos of Bellapais' (2013). Joachim Sartorius was recently awarded the Paul Scheerbart Prize for his translations of contemporary American poetry.
Photo credit: Retha Ferguson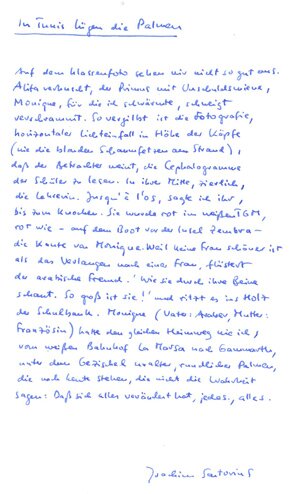 IN TUNIS LÜ GEN DIE PALMEN
Auf dem Klassenfoto sehen wir nicht so gut aus.
Alifa verhuscht, der Primus mit Unschuldsmiene.
Monique, für die ich schwärmte, schweigt
verschrammt. So vergilbt ist die Fotografie,
horizontaler Lichteinfall in Höhe der Köpfe
(wie die blonden Schaumfetzen am Strand),
dass der Betrachter meint, die Cephalogramme
der Schüler zu lesen. In ihrer Mitte, zierlich,
die Lehrerin. Jusqu´à l´os, sagte ich ihr,
bis zum Knochen. Sie wurde rot im weißen TGM,
rot wie – auf dem Boot vor der Insel Zembra –
die Kante von Monique. Weil keine Frau schöner ist
als das Verlangen nach einer Frau, flüstert
der arabische Freund. 'Wie sie durch ihre Beine
schaut. So gross ist sie!' und ritzt es ins Holz
der Schulbank. Monique (Vater: Araber, Mutter:
Französin) hatte den gleichen Heimweg wie ich,
vom weißen Bahnhof La Marsa nach Gammarth,
unter dem Gezischel uralter, rundlicher Palmen,
die noch heute stehen, die nicht die Wahrheit
sagen: Dass sich alles verändert hat, jedes, alles.
THE PALM – TREES TELL LIES IN TUNIS
We don't look that swell on the class photograph.
Alifa, star pupil with his ingeinous mug, is blurred,
Monique, who I had a crush on, is wrapped in
scratchy silence. The photo´s so yellowed –
at head-level a horizontal irruption of light
(like the blond scraps of foam on the beach) –
that the viewer imagines he's reading schoolchildren's
cephalograms. In their midst is the teacher,
slender. Jusqu´à l´os, I told her,
right down to the bone. She went red in the white TGM,
red as Monique's nook in the boat off
the island of Zembra. Because no woman's fairer
than the desire for a woman, my Arab friend
whispers. 'The way she's looking through her
legs. How tall she is!' , and carves it into the wood
of the school-bench. Monique (father: Arab, mother:
French) walked home the same way as I did,
from the white station La Marsa to Gammarth,
beneath the furtive whispers of stocky, ancient palm-trees,
which still stand today, which don´t tell the truth:
That everything´s changed, each and everything.
Translated by Richard Dove.
Note: the poem refers to a photograph, taken at the Lycée de Carthage in November 1958.  TGM is the abbrevation for Tunis-Goulette-Marsa, the main stops of the train running from Tunis to the beaches.
Poets